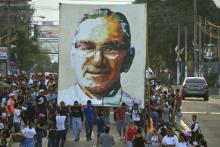 Pope Francis on Feb. 3 officially declared that Archbishop Oscar Romero, assassinated by a right-wing death squad in 1980 while celebrating Mass in El Salvador, was a martyr for the faith, clearing the way for his beatification.
The move ends decades of fierce debate over Romero's legacy, but it was not a complete surprise: Francis, the first Latin American pope, has often said he thought Romero was a martyr worthy of consideration for sainthood.
But his view contrasts with the conservative papacies of John Paul II and Benedict XVI, which viewed Romero as an icon of the theological left who was killed for political reasons because he spoke out against poverty and human rights abuses.
As a result, Romero's cause for canonization languished in the Vatican's bureaucratic limbo despite his great popularity elsewhere.
That is set to change. the Feb. 3 declaration by Francis stated that Romero was "killed in hatred of the faith." On Feb. 4, the Vatican is scheduled to hold a news conference with Archbishop Vincenzo Paglia, a Vatican official who is promoting Romero's cause for canonization.