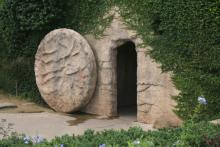 In Christianity's passage through Holy Week to Easter Day, a moment of truth will arrive.
Every detail is well known, thoroughly studied, and dramatized by Hollywood and homespun pageants — and the familiar story will reach across the divide and touch, or try to touch, every person who is listening and watching.
Many will get it, especially if they live in circumstances where people get falsely accused by the self-righteous; where the weak and vulnerable get mistreated by the powerful; where physical suffering is a daily occurrence; where death seems like the only next option.
That audience could well comprise the bulk of humanity — those who endure poverty, starvation, and violence of epic proportions, those who live in more prosperous lands and yet are the oppressed, the ignored, the expendable.
For that audience, the Gospel message is profoundly good news.