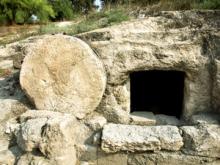 Easter Sunday marks the holiest, most exalted moment of the Christian year. In Easter services all over the world, trumpets and organs blast. Flowers transform churches with their brightness. Worship leaders boldly proclaim: "Christ is risen!" Congregations echo back: "Christ is risen indeed!" The cycle of celebration and repetition begins as it should — a festive proclamation of good news. In Christ God has overcome the powers of sin and death, freeing us to live with hope and promising us life. Not just life after death, but full life, divinely inspired life — life in the here and now.
Christ is risen! Christ is risen indeed!
Even in these festive moments, many people express insecurity regarding the quality of their own believing.