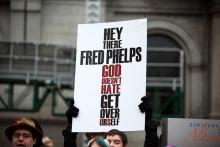 God is not like me or Fred Phelps. And I am thankful for that.
Fred Phelps, the founder of the Westboro Baptist Church, died last week. Phelps and his church are infamously known for picketing the funerals of lesbian and gay people and the funerals of American soldiers with signs saying "God Hates Fags" and "Thank God for 9/11."
There is no doubt that Fred Phelps and Westboro Baptist Church have spread a lot of hate and caused a lot of pain over the last few decades. From funerals to Lady Gaga concerts, the church's website boasts that Westboro members have picketed more than 50,000 events since Phelps founded it in 1955.
Why was Phelps filled with so much hatred? He explained his animosity in 2006 when he analyzed the tragedy of 9/11:
We told you, right after it happened five years ago that the deadly events of 9/11 were direct outpourings of divine retribution, the immediate visitation of God's wrath and vengeance and punishment for America's horrendous sodomite sins, that worse and more of it were on the way … God is no longer with America, but is now America's enemy. God himself is now American's terrorist.
If you didn't know it before, you know it now: theology matters. What we say about God matters because, like all of us, Phelps was a reflection of the god he worshiped.