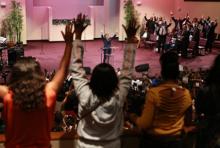 ST. LOUIS — Justice was a recurring theme as thousands of mourners packed the mammoth Friendly Temple Missionary Baptist Church on Monday for the funeral of Michael Brown, a black teen whose fatal shooting following a confrontation with a white police officer set off weeks of sometimes violent protests.
The Rev. Al Sharpton, among the speakers, called for a "fair and impartial investigation" into the shooting.
"We are not anti-police, we respect police," Sharpton said. "But those police that are wrong need to be dealt with just like those in our community who are wrong need to be dealt with."
Benjamin Crump, a lawyer representing Brown's family, alluded to the "three-fifths" clause in the Constitution for counting slaves (which actually was an anti-slavery clause) and demanded that Brown get "full justice, not three-fifths justice."
Brown's body was being laid to rest, but the controversy surrounding the Aug. 9 shooting was far from over. Prosecutors have not determined whether the Ferguson police officer, 28-year-old Darren Wilson, will face charges in Brown's death.