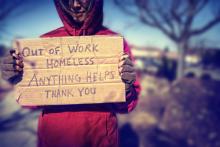 There should be no poor among you - Deuteronomy 15:4
This is one of the few commands virtually all religious people easily – even eagerly – follow.
We just do it our own way.
The biblical and cultural context and overriding assumption is that those of us with means should contribute – willingly and without conditions – to those among us who, for whatever reason, are needy.
We are not to judge – or distance ourselves – from those who have little – or cannot pay us back. In fact these are the ones Jesus commands that we – and by extension he – should invite to a banquet (Luke 14:12-14).
But we seem to have 'no poor among us' – we do our best to exclude, ignore, or even ban them when we do see them.