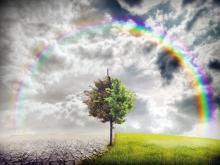 Sister Kathy Long turned toward my 13-year-old daughter and asked one question: "What will you tell your friends about spending this month in Mexico?"
In a public park in Cuernavaca, Mexico, we sat on a concrete bench next to six women who chatted and stitched embroidery patterns with brightly colored thread.
I glanced toward the sewing group, realizing that Maya would have rolled her eyes if I had asked her that same question. An intrusive query from a mother seemed compelling coming from a Catholic nun who worked in Mexico, promoted justice amid poverty, and even spent three months in jail for protesting the military training of Latin American leaders in the U.S.
"I will tell them that rich people and poor people are all people in the end," Maya responded. "If you have three cars and two houses, you are a person just like someone whose house is made of cardboard or metal."