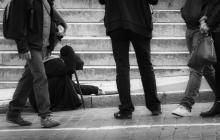 "Excuse me, sir. I don't have any cash, but I have a credit card, and I'm going to that restaurant right now. If you're hungry, I'd be happy to have you join me."
Well, I said something like that, though my French was a little rusty, and I might not have said it quite right.
The man was sitting on the sidewalk outside the train station. I'd just arrived in Paris after an overnight ride, and I was tired and hungry. The sign he was holding caught my eye: "I'm an out-of-work architect, and I need money for rent for my son and me."
You just never know with panhandlers and street beggars. Are they telling the truth, or have they simply figured out how to pull our heartstrings? It's easy to choose to ignore them, or to toss them some cash and pay off a guilty conscience. Don't stop, just toss some coins and keep rolling on by. I was living in Madrid at the time, a city of five million people. Beggars are a daily fact of life in a city like that, and you need to find a way to deal with them. Eventually they become like busy intersections, crosswalks, gawking tourists, and all the other impediments to travel.
At the same time, I couldn't help asking what Christ would do.