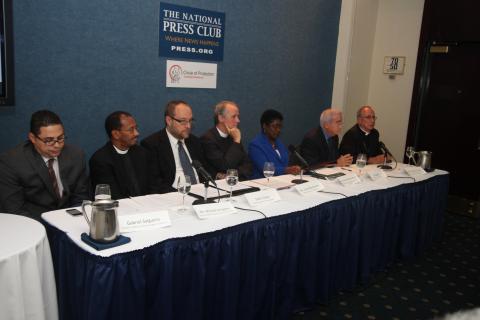 A new precedent was set yesterday. For years Christians have been separated by elections, but finally, we share a common ground moral issue: poverty—what is happening to God's most vulnerable children here in America and around the world.
Across the political and theological spectrum, the faith community is putting aside differences and taking up the biblical vocation of protecting the poor and bringing their stories and struggles to light. It's because of this unprecedented unity around those whom Jesus called "the least of these" that the presidential candidates felt they had to respond.
With a unified voice, a broad array of Christian leaders came together to challenge the presidential candidates to directly address the issue of poverty. That's because, as you have heard, the poverty "numbers" reported yesterday by the Census Bureau are not just numbers for us—they are people we know, children that we have come to love, and families we have watched struggle so painfully.
There is a growing consensus, that poverty is Christian issue, and that it has always been—one of our most traditional values issues. There are a lot of issues Christians should care about and a lot of different thoughts on the best ways to express that but when casting a ballot, every Christian should have "the least of these" on their minds.
That is why we stood side by side yesterday at the National Press Club — leaders from the U.S. Conference of Catholic Bishops, the National Association of Evangelicals, the National Council of Churches, Black and Hispanic churches, The Salvation Army, Bread for the World, and Sojourners; who asked that the presidential candidates address the economic hardships and hopelessness felt by far too many of our brothers and sisters.
The biblical prophets clearly say that a nation's righteousness is determined by how it treats its poor and vulnerable. And Jesus could not be more clear in Matthew 25: the ways that we treat the hungry, the thirsty, the stranger, the homeless, the sick, the prisoner — all those left out and left behind—is the way we treat him. How much we love him will be demonstrated in how we treat them. And, we pointed out, that Gospel text is not only addressed to individual followers of Christ but also to the "nations" that will also be held accountable for how they treat the poor. And as we said today, the new numbers on poverty released yesterday by the Census Bureau leave us with a very poor "Matthew 25 scorecard."
Therefore, as the faith leaders said today, we have no choice but to respond when we learn that so many of our brothers and sisters are living in poverty. It makes these presidential candidate videos ones that every Christian should watch before they vote.
We asked the candidates, what will you do to address the highest numbers of people in poverty in America in almost 50 years—numbers that we learned today are still growing? We believe these messages from the presidential candidates should lift the issues of poverty into the national debate into this election season.
We invite members of the press to watch these videos and to question these candidates even further about their visions and policy choices for overcoming poverty. The poverty numbers that came out yesterday require responsible journalists to make the question of poverty an important part of this election year discussion.
After three consecutive years of increases, we now have 46 million people in our country, or 15 percent of the population, living in poverty. While thankfully, there was not a significant increase this year, the data also reveals that income inequality continues to rise.
With the highest poverty numbers in almost 50 years, we intend to hold these candidates accountable in this campaign and after the election for the commitments they both make here today.
There is some good news, many of the social safety net programs in place are doing just what they are intended to do and helping keep families out of poverty. In 2011, Social Security kept 21.4 million people out of poverty, including 14.5 million seniors, the Supplemental Nutrition Assistance Program (SNAP) kept 3.9 million people out of poverty, the Earned Income Tax Credit kept 5.7 million people out of poverty and unemployment insurance another 2.3 million people.
There are many things that will be necessary to reducing and overcoming poverty, as both of these videos suggest. But we need a new national commitment and a new strategy on poverty in America and around the world. We didn't hear that kind of commitment or conversation at either convention and don't hear poverty on the agenda for this election. That ends today with this witness from faith leaders and these presidential videos. The faith community has asked both presidential nominees for a response and they have answered. So it's time now to put poverty on the campaign agenda from our local churches to our public forums to our presidential debates.
So let me introduce these two videos for you to watch and share with this important statement:
The Christian leaders who initiated the "Circle of Protection" asked the two major nominees for president to offer a brief video of how they would seek to overcome poverty as president. The Christian leaders express their thanks to both President Obama and Gov. Romney for their positive responses to this request. The leaders also wish to make clear that this effort in no way offers or implies an endorsement of either candidate or the proposals in their statements. Likewise, the participation of President Obama and Gov. Romney does not offer or imply an endorsement of the positions taken by the Circle of Protection or its members.
So please, go HERE to watch, share, and respond.
Jim Wallis is the author of Rediscovering Values: A Guide for Economic and Moral Recovery, and CEO of Sojourners. Follow Jim on Twitter @JimWallis.