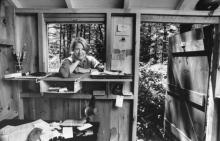 When Sojourners CEO Jim Wallis departed on his three-month sabbatical at the beginning of January, I sent him a list of books, films and music that I thought would nourish his mind and spirit in, perhaps, different ways than the media he normally consumes do.
Jim's sabbatical — a true Sabbath in the literal sense — is designed to be a time of rest and, more importantly, rejuvenation. It will also be a creative time when he will be working on a new book.
Jim is a creative. A writer. A visionary. He regularly digs deep into his heart and soul, breaks himself open and pours out his passion, hope and faith for the edification of others. If creatives aren't diligent, though, we can work ourselves into the ground. Our wells can run dry.
In sending Jim this list of what I like to think of as "soul food," I hoped to inspire his imagination and give him new fuel for the fire, if you will.