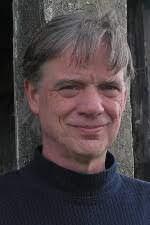 Theodore Deppe, author of seven books of poems including, most recently, Riverlight, lives in Ireland with his wife, poet Annie Deppe.
Posts By This Author
Merton, Laughing
09-27-2023
Dream fragment in which Thomas Merton stops his Jeep
at the border, where a customs official who looks like my sister
opens his suitcase and, finding a spare monastic robe,
The Place of the Green Wand
11-27-2012
Something called a GiveBox appeared
this fall on Falckensteinstrasse, and my first gift
was a memory: Dorothy Day, decades ago,
gently quoting St. Basil to me: If you have two coats,
you've stolen one from the poor.
Like a walk-in cupboard on the sidewalk, brightly
painted, decked out with flowers, this GiveBox
is for the anonymous exchange of gifts.