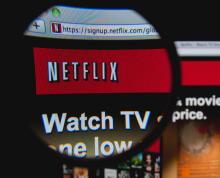 This is a major policy for a leading company, given that our country remains one of three countries in the world with no guaranteed paid parental leave. In fact, only 12 percent of Americans — those at Sojourners included — have access to paid parental leave (this drops to 5 percent for low-wage workers), and only four states — California, Massachusettes, New Jersey, and Rhode Island — currently have publicly-funded parental leave. 
With its announcement, Netflix joins other tech companies, including YouTube, Yahoo, Reddit, and Twitter, as one of the most generous workplaces for parental leave. As TechCrunch notes, this responsive shift in part reflects changing priorities of Silicon Valley's talent, as the workforce shifts from wanting perks that "make work fun" (unlimited soft drinks, ping-pong tables, bean bag chairs) to wanting real work-life balance.
"The talent is growing up," says TechCrunch. Netflix is listening ... it remains to be seen whether national policymakers will.