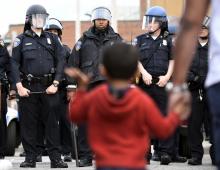 I enjoy cop shows on television.
My favorite is Blue Bloods, following the "Reagan" family from terrorist threats to homicides to domestic violence.
I can't imagine what it's like to be a cop. Perhaps routine marked by bursts of frenzy, some of it life-threatening. One's hometown seen through the lens of crime, tragedy, and evil. Low pay, high risk.
I like Blue Bloods because it shows upright law enforcement taking "Protect and Serve" seriously and making brave and ethical choices.
These shows are quite unrealistic, of course. Crime doesn't get solved that easily or snap decisions made that wisely.
I don't think, however, that I realized until recently how separated from reality those fictional accounts have been. As police shootings of unarmed citizens go viral, as minorities talk of long-standing police brutality, as we watch guards beating prisoners, and as federal law enforcement engages in creepy surveillance, internal corruption, and the arming of local police as military commandos, the veil is lifted.
Now we see in our own American law enforcement the same brutality and power-madness that have marked corrupt societies we supposedly surpassed, from the secret police in Eastern Europe to uniformed thugs in South America.
I find it confusing. Not the discovery that TV isn't real, but to see how low we have fallen. Has this brutality been the dark side of police work all along?