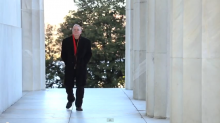 I recently went back to the Lincoln Memorial to tell the story of how and why I wrote my new book, On God's Side: What Religion Forgets and Politics Hasn't Learned About Serving the Common Good. And I reflected on my favorite Lincoln quote, displayed on the book's cover:
"My concern is not whether God is on our side: my greatest concern is to be on God's side."
I invite you to watch this short video, and to engage in the discussion as we move forward toward our common good. Blessings.