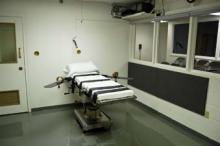 At 6:23 p.m. yesterday, the state of Oklahoma initiated its effort to kill Clayton D. Lockett. Twenty minutes later, after being declared unconscious by a physician, Lockett cried out, "Oh, man," writhing in pain. Addled by this unexpected display of pain, one of the executioners said, "Something's wrong." Soon after, the window to the observation room was covered and media were escorted out of the room.
A state official later reported that Mr. Lockett died of a heart attack at 7:06pm.
The fact that this unexpected scene was preceded by months of arguments by lawyers about the constitutionality of resuming executions in Oklahoma guarantees that a debate about the death penalty will ensue. Those who have argued that this ultimate form of punishment is "cruel and unusual" will make last nights scene their case in point. The Governor of Oklahoma has already declared that a thorough investigation of what went wrong will take place before any other executions go forward. Privately, in conversations at home and on their computers, many will say, "Did he suffer? Sure. But why shouldn't he after what he did." Most national polls show that support for vs. opposition to the death penalty is about 50/50. Both sides will have plenty of people to argue.
But I think it would be the greatest of tragedies if we did not notice that what happened in Oklahoma last night reveals perhaps our deepest national self-deception — that, no matter what goes wrong, we will fix it because we are in control.