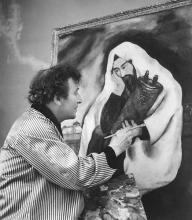 At a moment when the world is flush with new books and ever-evolving interpretations of Jesus, one of the last century's artistic masters is providing art lovers with a striking take on the first-century religious figure.
The first U.S. exhibition exploring the "darker works" of Marc Chagall (1887-1985) shows a Jewish artist obsessed with Jesus.
"Chagall: Love, War, and Exile," at The Jewish Museum in New York showcases the work of the Russian-French artist during World War II as he tried to make sense of a world gone mad.
Of particular interest are paintings depicting the crucified Jesus — depictions that are often read as metaphors not only for war but the particular expressions of Jewish suffering and persecution in Europe during the 1930s and 1940s.