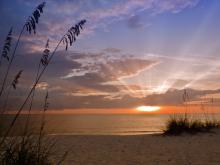 Editor's Note: New Vision Renewable Energy connects Christians with opportunities to provide renewable solar lights to people in the developing world. Their Christmas Lights Advent Devotional features daily readings and questions from prominent Christian thinkers, including Sojourners president Jim Wallis. This Day 10 of Advent devotional from Jim Wallis is reprinted and adapted with permission of New Vision Renewable Energy. You can find the full Christmas Lights Advent Devotional guide and solar light kits here: http://nvre.org/devotional-order.html
Proclaiming Jesus as light of the world is an audacious statement. It directly challenges all those idols that persistently attempt to replace God as the center of our lives and our world. In our culture, a selfishness that denies any obligation to anyone or anything beyond our own self-interest may be the greatest idol of all. It denies that demanding more and more energy at great cost to our environment and the people who live close to the land has problematic consequences. We have lost sight of the common good and the consequences have been devastating.
In many places, hope has turned into despair. Darkness seems to be crowding out light. From where will our help come from?