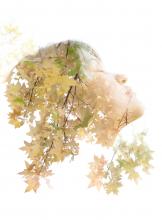 Sometimes we dehumanize people by speaking, thinking, or imagining about them in generalizations, by covering their true identity with generic labels and terms that are impersonal, cold, and less meaningful. For example, you can refer to your brother as "someone that I know" or your best friend as "this one guy."
We often do this when we want to create separation or disassociate from others — often in order to protect ourselves, make ourselves look better, or attack others. Thus, we refer to our spouse as "this person I know" when we're agreeing with a coworker about people who hold an opposing political belief we disagree with, or offhandedly use the phrase "this guy I know" about our dad when talking about annoying habits that we can't stand.
We see Peter do the same thing in the Bible, referring to Jesus — his savior, closest friend, companion, teacher, and leader — as simply "him" when being accused of knowing Jesus right before the crucifixion.
Luke 22: 56-57: Then a servant girl, seeing him as he sat in the light and looking closely at him, said, "This man also was with him." But he denied it, saying, "Woman, I do not know him."
I don't know "him."
One word: him.
No harm done, right? It's just a simple pronoun.
We do the same thing all of the time.
Him, her, she, he, them, those people, etc.
As innocent as this practice may seem, the ideas behind them are more cynical, and it becomes much more serious for Christians when we use terms, thoughts, and ideas as a way to disconnect people from God.