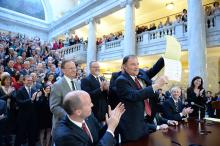 Utah's new law extending employment and workplace protections to LGBT people and conscience protections to individuals, churches, and faith-based associations extends an olive branch to both groups, even as it misses one key sticking point.
Panelists for two discussions hosted by the Brookings Institution on March 16 described key features of the legislation, noting that it is:
Unique to Utah, with its distinctive religious and political history, not a template for other states or for federal legislation.
A measure of healing between the Church of Jesus Christ of Latter-day Saints and LGBT people.
A law that says nothing about whether bakers, florists or other vendors must accept customers planning a same-sex wedding, even if such marriages violate their religious beliefs.
A layer of robust protections for religious groups.
Even though other states may not replicate this law exactly, it can serve as a toolkit for orchestrating opposing forces to find common ground, legal and political, experts said.
Former Utah Gov. Michael Leavitt, a Mormon who cautioned that he was not a spokesman for the church, called the legislation "a great victory for the protection of conscience."
Leavitt said the LDS church convened the effort to write the legislation with LGBT activists in an effort to heal the tensions between the two communities, inflamed when the church joined efforts to ban same-sex marriage in California in 2008.
"It is a doctrine of the church that marriage is between one man and one woman and it will not change," said Leavitt.
But it is also a doctrine of the church that "Jesus Christ would not abide by the withholding of shelter or sustenance or care."