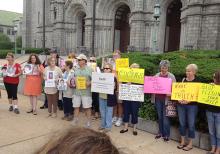 When victims of sexual abuse by Catholic priests first organized into a small band of volunteer activists in the late 1980s, reports of clergy molesting children were still new and relatively few. Most were minimized as anomalies or dismissed altogether — much the way the victims were.
But today, as the Survivors Network of those Abused by Priests, or SNAP, marks its 25th anniversary at a conference in Chicago, its members can take satisfaction in seeing that its claims have been validated, and a few (though hardly all) of its recommendations have been implemented by the church hierarchy.
And instead of facing constant verbal attacks and the occasional angry parishioner spitting on them at a protest, SNAP's members today are far more likely to receive a handshake and a word of thanks, and maybe even a donation.
SNAP's advocacy on the Catholic scandal also helped push the reality of sexual abuse into the public consciousness to the point that victims can regularly win in courts and get a hearing in the media, and they are much more likely to come forward to tell their stories, whether they were abused by clergy or by athletic coaches or Boy Scout leaders.
Yet that success is also presenting SNAP with a daunting new challenge as it looks to the future: how to respond to a flood of new inquiries from victims from other faiths and institutions, and how to push for changes beyond the familiar precincts of the Catholic Church.