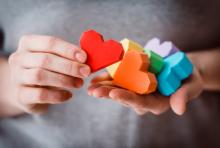 I am in over my heart on the LGBTQ situation within the church. As a Christian ethicist, life-long evangelical, and devoted Christ-follower, my heart aches to the point where it's breaking.  I have friends, students, and family who are gay or lesbian, and my faith in Christ would be worse off without them. Among other things, they witness faithfulness to God amidst exclusion and persecution.
Fortunately, I'm in a church where being in over your heart is a good thing. Now called the Evangelical Covenant Church, my denomination's founders called themselves Mission Friends at the outset. We began as a renewal group in Sweden around the practices of reading Scripture and hospitality. We began out of a love for spiritual formation, and we countered the dominant culture by allowing all people to be readers of Scripture.
Scripture reading in rural Sweden developed as a subversive practice. Though they were few and poor, lowly and insignificant, our Covenant forebears enacted justice by crossing prohibitive lines of class, gender, and age. Three things sustained them: the Jesus of the word; a new spirit of freedom and joy; and the word of God and the sacraments. As a result, these faithful groups gained the capacity to hear God's word through the hearts and minds of individuals who differed from one another.
This practice of diverse interpretation amongst lay people forged ahead through the strength of friendships. The name "Mission Friends" grew under the Psalm 119 banner, "I am a friend of all who fear thee," and the people of the movement treasured friendship and unity in Christ above any doctrinal or confessional statements. They believed that friendship is not only the method of advancing the gospel — it is the heart of the gospel. Friendship reflects in the simplest terms the way that the Evangelical Covenant church does ecclesiology, or life together.