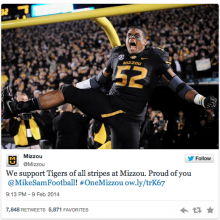 There's something about Michael Sam that we are missing and I hope the church will see it.
Michael Sam is the college football star who "came out" in an interview with ESPN and the New York Times . He graduated in December and will be drafted in the upcoming NFL draft. Sam was the Southeastern Conference's co-defensive player of the year and a first-team all-American. He came out to his teammates before the season started and at the end of the year they voted him their most valuable player.
But it's not his superior football skills that the church should pay attention to. It's his spirit and his sense of identity.
Throughout his interview on ESPN with Chris Connely, Sam smiles, clearly comfortable in his own skin. A few highlights of the conversation that are worth pointing out: