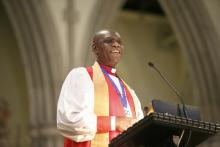 African Anglicans welcomed the appointment of a Nigerian bishop as the next secretary general of the 85 million-member Anglican Communion, even as others criticized the appointment because of his anti-gay comments.
Bishop Josiah Atkins Idowu-Fearon beat other applicants from Oceania, Asia, Europe, and the Americas and will assume the mostly ambassador-type post at a time when the worldwide communion remains estranged over homosexuality and same-sex marriages, especially in Africa.
"He is articulate and very well educated," said Bishop Julius Kalu of Mombasa, Kenya, diocese.
"His position on traditional Anglicanism is very firm. This is good for us."
Kalu said the appointment had come at the right time, when African Anglicans needed a bigger voice within the communion.
"The church is growing fastest here," said Kalu.