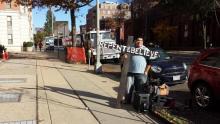 Some leaders use trending topics or hashtags to build momentum around a certain conversation. The idea is that by pointing followers to a catchy hashtag, activists can spark conversation and rally supporters around a cause. On Nov. 24, for example, Twitter lit up with the hashtag #PrayForFerguson after a grand jury decided not to indict a white police officer who fatally shot a black teenager.
One of the earlier noteworthy mobilizing campaigns included #KONY2012, a movement founded by a Christian, who launched a campaign to try to capture African Lord's Resistance Army leader Joseph Kony. First Lady Michelle Obama famously participated in the #BringBackOurGirls campaign after more than 200 Nigerian schoolgirls were kidnapped by the terrorist group Boko Haram.
But everyone on Twitter is learning that a hashtag cuts both ways — it can be hijacked or lampooned by detractors, and it's a key way that online activists are pushing back against opposing messages or what some might even call hate speech.