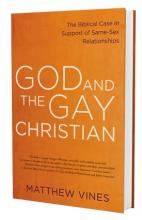 Matthew Vines has done us an incredible service by writing his book God and the Gay Christian: The Biblical Case in Support of Same-Sex Relationships. Matthew's book is an articulate and engaging argument for Christians to support same-sex relationships. It is a great book and I highly recommend it to anyone interested in debate over Christianity and the support of same-sex relationships.
I appreciate this book for primarily two reasons. First, Matthew presents scholarship on the topic in a thoughtful way that won't bore you to death. If you've already done your homework on the topic you probably won't find anything new, but by reading this book you will encounter scholarly arguments in an engaging way. There are other books on the topic, of course, but what makes Matthew's book different than most of them is that this is an engaging page turner.
Matthew skillfully debunks many of the arguments against same-sex marriage throughout the book and replaces them with arguments to support same-sex marriage. He not only takes a look at the biblical "clobber texts," the six passages in the Bible often used to denounce same-sex relationships, but he also takes a look at the historical and cultural context of the ancient world's view of sexuality. His argument is convincing. I encourage you to buy the book for yourself and for anyone you know who is open to hearing his side of the debate.