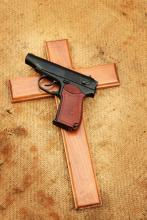 There have been two very different sets of responses to last week's mass shooting in Roseburg, Ore. The shooter killed nine people before taking his own life during a shootout with police, in what was the 142nd school shooting since Sandy Hook, in December 2012, when six teachers and 20 children were killed.
Gun rights advocates and gun control supporters alike have used the opportunity to politicize the tragedy. That isn't, in itself, a bad thing. If politics is the business of governing a diverse body of people, and guns are both used and governed, then our response to repeated mass shootings ought to be, at least in part, a political one.
To "politicize" something that is inherently political isn't a dirty thing. In fact, to keep ignoring mass shootings, to refuse to change gun control policy because of the power of the National Rifle Association lobby, to let 20 children die and take no national action to restrict gun access in this country — indeed, to vote against an assault-weapons ban — that is the dirty thing.