The Rev. Dr. Rob Schenck is an ordained evangelical minister and president of the Dietrich Bonhoeffer Institute, located in Washington, D.C. He holds a Doctor of Ministry from Faith Evangelical Seminary in Tacoma, Washington and is a senior fellow of The Centre for the Study of Law and Public Policy at Oxford. Rev. Schenck is the subject of the Emmy Award-winning documentary, The Armor of Light, and a member of the leadership team for Survivor Sunday, a nationwide day of remembrance for the 30,000 lives lost annually to gun violence sponsored by Prayers & Action. He is also the author of Costly Grace: An Evangelical Minister's Rediscovery of Faith, Hope, and Love (June 5, 2018).
Posts By This Author
One Year After The Las Vegas Mass Shooting, What Has Changed?
10-01-2018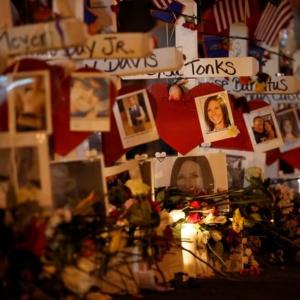 It is gut-wrenching to look at their faces — 58 of them. They were young, old, men, women, single, married, parents, and grandparents. From all over the country and from Canada, they had one thing in common: they were fans of country music. One year ago, on Oct. 1, they made their way to an open field in Las Vegas where, in the midst of their revelry, they were plunged into terror and cut down by bullets — more than 1100 — fired from 32 stories above their heads.
Should Christians Own Guns?
03-22-2016
Why this conservative evangelical is skeptical
SITTING AT A DINING-ROOM TABLE full of fellow evangelical pastors, I asked how many were "carrying" (a euphemism for being armed with a concealed handgun). They all raised their hands. Then I asked, "What determines when you draw your gun and prepare to shoot another human being?" There was awkward body language and mumbling. After a few seconds passed, one older man said, "I'll tell you what determines whether I draw the gun or not. It's the man's skin color."
I was left speechless by the pastor's jarring, blatant racism. Still, as respectfully as possible, I asked him to please clarify what he meant.
"Well, we got a big city nearby, and, you know, the black people there are always killin' people. Now, if a colored man comes into this county, I know he means trouble because he knows he doesn't belong here. That makes him more dangerous than a white man. That's why I'd pull my gun."
The man who was speaking, and the others nodding their heads in agreement, are my colleagues. I am one of them when it comes to a statement of faith—but not when it comes to race and guns.
'Surrendering my life to Christ'
When I speak of evangelicals, I am speaking of my own. I surrendered my life to Jesus Christ as my lord and savior 42 years ago. I attended an evangelical Bible college and seminary and was ordained as an evangelical minister. I poured myself into evangelism and disciple-making. Today I'm a missionary to top government officials in Washington, D.C., and I chair one of the oldest associations of evangelical clergy in the country. I love my Lord, I love his people, and I love doing God's work.