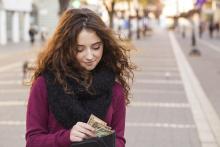 3. Jesus already taught us how to tithe.
As I reflected on the practice of tithing more deeply, I realized that the parable in Mark 12 of Jesus recognizing the widow who offers two copper coins is one that influences my concept of discipleship — including monetary giving. It is cliché, because it is the lesson that is frequently read during budget meetings and stewardship drives. But the woman's faith and commitment truly have been a reminder that it is not about how much I give, or even really whether I give anything. Jesus recognizes her sacrifice and discipleship, as evidenced through her monetary offering, and asks us to follow her lead.
Being a member of a church comes with many expectations. But so does being a Christian. A theological belief in salvation through grace alone roots my faith, but so does the action of giving of my time, talents, and earthly possessions to those who have less. I am both loved by God as an individual, and called to be in a community.