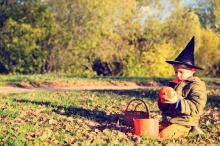 I've had the privilege of participating in a church's Trunk-or-Treat program for kids in a low-income neighborhood in Cincinnati. Folks bring their cars and vans to the church's parking lot and decorate them. They hand out candy to the kids, who come dressed in their costumes. There's food and hot chocolate and books, all for free.
One regular attendee is a little boy who has no legs, so his mom pushes him around the parking lot in a wheelchair. He loves to dress like a ninja and if you ask why, he'll go on and on about how much he loves ninjas and his costume. And how much he loves Halloween.
The kids make the route around the parking lot a few times with their bags open, getting another piece of candy and a little bit of love at each stop. Everyone enjoys the giving and the getting.
Maybe that's what I love most about Halloween.