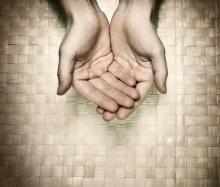 This morning, Madu walked the one kilometer path from his village to my house. He is married to Sirima and they have two children: four-year-old Sira, who they call Bonnie, and two-year-old Musa, who they call Papa. He told me that Papa had burned his hand and wrist in the morning cooking fire.
Maybe the path to civility and peace can be found somewhere along the path from my house to Madu's village.
"Do you have any medicine for a burn?" he asked.
There is a hospital in our small town on the southwestern edge of Mali, but its small staff of doctors serve a large population of people without the use of technology, electricity, or even running water. Many times people come to me for help and healing before they go to the hospital because I have free first aid supplies, a generator, and a deep water well. I consulted my ragged copy of Where There Is No Doctor and turned to the section on the treatment of burns.