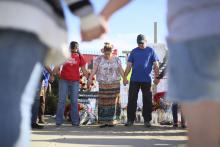 The murderous attacks in San Bernardino, Calif., are too fresh to address at any length.
The brutality and horror of the killings of the innocent and the bloody shootout, the indescribable grief of the families, and the sheer shock of such an incident occurring in an otherwise quiet community demand prayer, reflection, and comfort more than quick and inevitably inadequate pontification.
Sadly, these shootings are not unique. Too often, we have experienced the agony of slaughter in churches, homes, theaters, schools, and other venues of what has been the quiet commonplace.
Yet there is a striking facet of these tragedies that shines brightly amid their grim darkness: The witness of Christians who, in the face of evil, have displayed the love of their savior and the forgiveness he alone can bring.