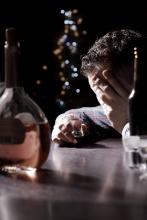 I was 6 years old, growing up in Cleveland. It was Christmas Eve. The traditional Slovak meal was ready on the stove — mushroom soup and pierogies. My mom, my younger brother and I were waiting for my dad to get home so we could eat.
The waiting part was no surprise. 
My dad was an alcoholic. During the Korean war, he went off to serve as a paratrooper. He was wounded. My mom said the experience changed him. He brought some personal demons with him when he returned. 
Those demons seemed to emerge especially during the holidays. When my dad got off work, he'd go to a bar downtown near the butcher shop where he worked. The other workers would have a holiday drink and go home. My dad would stay and keep drinking. He couldn't stop. Maybe he was trying to drown those demons. Who knows? 
While he was at the bar, we were home waiting. And getting hungry. 
Finally, my mom decided we would eat without him. After supper, my brother and I got into our new pajamas. We always got new ones for Christmas, the kind with the footies and cool designs like race cars or superheroes. Snug in our sleepwear, we sat on the couch and waited. My mom got very anxious, afraid that something bad had happened. 
Finally, headlights lit up the driveway. We looked out the front window. We could see a car, but it wasn't my dad's car. We could see two silhouettes in the front seat — a driver and a slumped-over passenger.