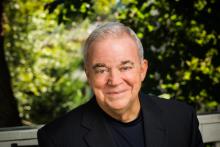 The Pew Forum recently released a new study, "Nones on the Rise." This was not about my friends called the "Nuns On The Bus," who just did a tour around the country focusing on social justice. Rather, It details the concerning trend of those in our country who have given up on religion altogether. 
Social scientists tell us that adults, especially young adults, are increasingly disconnected from our established religious traditions. "Nones," the Pew forum calls them, have grown from 15 percent of U.S. adults to 20 percent in only five years. One-in-three adults under 30 check the religious affiliation box, "None of the above" or "Unaffiliated." Despite the fact that 68 percent of nones believe in God, only 5 percent of them attend church once or more a week, and 22 percent attend monthly/yearly. (Learn more about this group in our blog series Meet the Nones.)
But the focus on the next generation is not all bad news. On Tuesday, I had the pleasure of moderating a diverse panel of seven young evangelicals. Each had unique experiences and backgrounds. Some self-identified as liberal, while others self-identified as conservative. But those political ideologies could not separate their core evangelical principles.