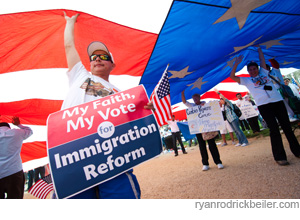 More than 200,000 people descended on Washington, D.C., for the March for America last weekend. And while the immigration rally was an inspiring and important part of this year's reform efforts thus far, the message was amplified on Monday when hundreds of people of faith held meetings with their Congress members and faith leaders paid a visit to the White House.
As we have learned from past immigration reform efforts, we must not only march in the streets, but also meet and form relationships and dialogue with our political leaders. One tactic without the other loses impact. But how do we know if our efforts are making a difference? Well, the rally has garnered national media attention and raised the issue of immigration reform as a serious contender for legislative action this year. And it inspired and motivated millions of Americans to join our movement.
But what about the Congressional visits? Did our lawmakers actually listen? Days after a meeting with one high-level leader, we received word that our efforts are making a difference.
Senator Majority Leader Harry Reid, in a recent press conference about had this to say about his Monday meeting with top religious leaders:
I had a terrific meeting the day before yesterday on immigration; I had religious leaders from all over the country. I had a Catholic Cardinal, a Catholic Bishop, I had one of the leaders of the Jewish faith, we had Evangelicals, we had head of Sojourners Jim Wallis, and they said 'we're going to do some demonstrating, as we have in the past.' They're peaceful, they're powerful, but they're going to add a new dimension to getting this done because if there were ever anything that dealt with fairness, it's this immigration issue, and they're going to try something new, and that's going to do a lot praying around America with all these different faiths.
Senator Reid was encouraged by our faithful witness on this issue of extreme importance to our nation, and said so publicly. As a result of Monday's meetings, relationships were strengthened and commitments were made by faith leaders to pray this legislation into passage and to engage our communities in peaceful activism in support of immigration reform.
Senator Reid closed by stating that "we're going to do everything we can to get this immigration thing over the finish line."
So will we. In the next three weeks, people of faith will be following up with their members of Congress while they are at home, reminding them that their communities care deeply about just and humane immigration policies and want to see legislative action this year.
We will keep up the energy from the rally, share our stories, and pray for our elected officials while urging them to act for justice for our immigrant neighbors.

Allison Johnson is the campaign coordinator of Christians for Comprehensive Immigration Reform.