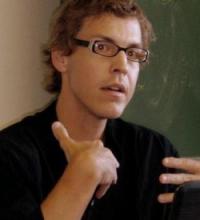 It was December of 2000, but I remember the occasion as if it were yesterday.

It was a few days after Christmas during my senior year of college. I was quite nervous, and I wondered how my friends and family would react. 
How would my basketball teammates respond? Would my roommates treat me differently? And of course, what about my girlfriend? She had no idea our relationship would take such a dramatic turn.

I could hide no longer. I had to be honest with who I was. And so, after a great deal of delay and long nights of nervous planning, I finally decided to share what I had been keeping secret. 
Beginning with my girlfriend, then my parents, brother, sister, and eventually friends, roommates, and teammates, I shared the news: After a significant amount of prayer and discernment, I was no longer planning to attend law school following college graduation, but instead, I wanted to attend seminary in order to become an ordained Lutheran pastor.

As to be expected, I received mixed reactions.

My parents were confused and surprised, as they – like most people – had not perceived me as "religious"," especially not to the point of pursuing ordination. Nevertheless, they accepted the news with delight and affirmation. 
In addition, my girlfriend (who is now my wife) was wonderfully supportive. So was my brother, sister, and closest friends. 
On the other hand, some others were not sure how to react. My friends – mostly uninterested in religion – wondered about future plans. Basketball teammates were a bit uneasy. And even the campus priest and a few professors had an assortment of reactions. While a number of people were anxious and apprehensive, those within my closest circle of friends accepted the announcement with open arms. 
I continue to thank God for such a wonderful web of support.