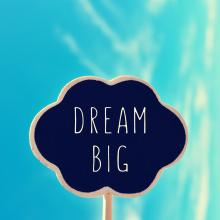 My new year's wish for you: That you dream. Dream boldly. Dream audaciously. And let those dreams change you and the world around you in some ways this coming year.
I know that dreamers are not viewed kindly by those who think that the world can't be changed.
Dreamers? Ignore them. They're fools. Out of touch with reality. They need to get real. That's not how the world is. You can't change it.
It's always been that way.