Tinamarie Stolz is a campus minister at Saint Joseph's University, and a recent graduate of the University of Dayton's campus ministry graduate assistant program with a master's degree in theological studies. Last summer, she was an intern for Sr. Joan Chittister and the Benedictine Sisters of Erie, Penn. Previously, Tinamarie completed a year of service as a food pantry manager with Christ the King Service Corps in Detroit and started a women's ministry at the College of Saint Rose in 2012.
Posts By This Author
Arrest as Sacrament
03-02-2018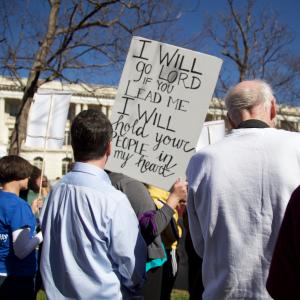 Each holy sacrament — baptism, eucharist, confirmation, reconciliation, marriage, holy orders, anointing of the sick — is a way for Catholics to show that we are with God, and God is with us. And we are with each other.