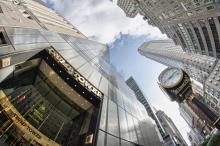 Some evangelical leaders are disappointed by Donald Trump's meeting with various faith leaders earlier this month. 
Several prominent pastors met with the businessman and presidential candidate, who remains popular with evangelical voters, in Trump Tower in New York City, N.Y. 
According to Christian Today, a number of evangelicals are critical of Trump's attempt to get in touch with the evangelical constituency because they say that the faith leaders invited to the meeting are those who endorse prosperity gospel theology. 
"The people that Trump has so far identified as his evangelical outreach are mostly prosperity gospel types, which are considered by mainstream evangelicals to be heretics," Russell Moore, president of the Ethics and Religious Liberty Commission of the Southern Baptist Convention said.