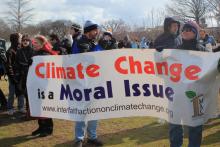 God's creation is in danger; and to call upon the powers of the world to heal it, God's people are prepared to go to jail. 
Perhaps most famously in our recent history, the startling sight of a religious leader in jail was embodied in the willingness of Dr. Martin Luther King, Jr., to go to jail more than 20 times in order to embody his religious commitment to racial justice, peace, and nonviolence.
As we approach the Holy Week of Christianity and Passover, we should be aware that this tradition goes back thousands of years. The movement of ancient Israelites seeking freedom from a lethal Pharaoh began even before Moses, when two midwives – the Bible carefully records  their names, Shifra and Puah – refused to murder the boy-babies of the Israelites as Pharaoh had commanded. The recollection of that moment is the first recorded instance of nonviolent civil disobedience.
When that cruel and arrogant Pharaoh, addicted to his own power, refused freedom to his nation's slaves, his arrogance forced the Earth itself to arise in what we call the Plagues – ecological disasters like undrinkable water, swarms of frogs and locusts, the climate calamity of unprecedented hailstorms. 
Passover has kept alive and lively the memory of that uprising. So it is not surprising that the Gospels record that just before the week of Passover, Jesus led a protest against the behavior of the Roman Empire, its local authorities, and a Temple he and his followers thought had become corrupted from its sacred purpose. 
To protest against the Empire of his era, Jesus chose a time that was both appropriate and dangerous, since Passover celebrates the fall of Pharaoh. His challenge resulted in his arrest and imprisonment, and then his torture and execution.  
Both Judaism and Christianity can trace their origins to acts of nonviolent civil disobedience. Indeed, for several centuries of Imperial Rome, the very persistence of Rabbinic Judaism and Christianity were collective acts of civil disobedience. 
Today, religious folk face modern plagues imposed upon our countries and our planet by a new kind of Pharaoh.