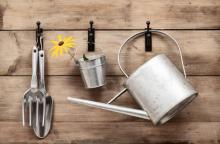 Editor's Note: The following is an excerpt from Fred Bahnson's new book Soil and Sacrament: A Spirtual Memoir of Food and Faith.
The garden is our oldest metaphor. In Genesis God creates the first Adam from the adamah, and tells him to "till and keep" it, the fertile soil on which all life depends. Human from humus. That's our first etymological clue as to the inextricable bond we share with the soil. Our ecological problems are a result of having forgotten who we are—soil people, inspired by the breath of God. "Earth's hallowed mould," as Milton referred to Adam in Paradise Lost. Or in Saint Augustine's phrase, terra animata—animated earth.
The command to care for soil is our first divinely appointed vocation, yet in our zeal to produce cheap, abundant food we have shunned it; we have tilled the adamah but we have not kept it.