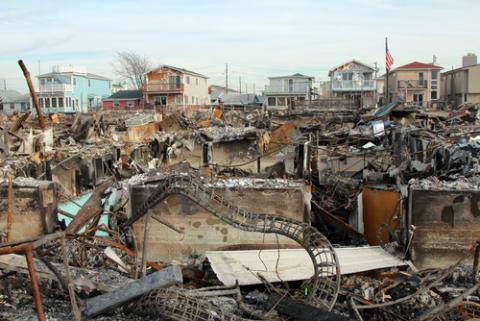 "But you, keep your head in all situations, endure hardship, do the work of an evangelist, discharge all the duties of your ministry." 2 Timothy 4:5 (NIV)
On Oct. 28, I was shocked into a cruel reality when I received an urgent text message as I was about to preach my Sunday sermon at Mount Carmel Baptist Church in Arverne (Far Rockaway), N.Y. We were told to evacuate immediately, and that both of the bridges that lead to and from the western portion of the peninsula would be shut down. Hurricane Irene had proven to be a false alarm in 2011, and we mistakenly thought that Sandy would be as well. I instructed all of our parishioners to leave immediately after service. My family and I packed up and headed out to my sister's place in Bloomfield, N.J.
When I ventured back on Halloween, it took more than five hours to get to Far Rockaway, a peninsula that lies between Jamaica Bay and the Atlantic Ocean. What I saw on the way was sobering, if not devastating: boats in the middle of the street, debris everywhere, no electricity for miles and miles of Queens and Long Island, and homes – hundreds, if not thousands flooded — many destroyed. My own home and church in Arverne took on nearly 7 ft. of water. At Mount Carmel, our offices, fellowship hall, kitchen, and bathrooms were destroyed.
Immediately, we set up the church as a help center. We gave out literally tons of food, clothing, and water in the wake of the storm, all through generous donations from organizations, churches, and individual supporters. A few weeks later, God gave me a vision: a tent set up in the church parking lot on Thanksgiving Day. I prayed, then e-mailed and called everyone I could think of. On Thanksgiving Day, we set up a 30 x 60 foot tent. Under this shelter, the saints provided every conceivable Thanksgiving food, both traditional and cultural. We served hot Thanksgiving meals to more than 300 residents of Far Rockaway. When I arrived on that day, I walked from the entrance of our lot to the parking area where the tent was set up. I saw people of all colors, cultures, religions, and orientations, working together for the common good. There were no Blacks or Whites, Republicans or Democrats, no Liberals or Conservatives, Straight or Gay, but only people – together. This great quilt of caring lavished love and hope on the people of our community by providing a true Thanksgiving fellowship and meal. I was moved to tears, at points sobbing because of the sheer beauty of this sampling of humanity. At Christmas, we gave out more than 1,000 toys to children in the community who had their joyous celebration snatched away by a Grinch named Sandy.
Eight months later, the community has come back, but not entirely. Stores and businesses are still boarded up. Construction still goes on in homes whose owners have to do it themselves because money from FEMA and Insurance has proven inadequate or, in some cases, non-existent. As the attention of the population has shifted to our upcoming mayoral election in New York City, catastrophes in other places, and Supreme Court decisions, people of faith must continue to do the work of evangelists, fighting for the continued support that we need to truly rebuild – which is more than just better infrastructure or additional government grants.
We must insist that greater attention is paid to climate change – more than just speeches from the executive branch. God has given us dominion over the Earth, but we must be good stewards over this great responsibility. To ignore this is to risk another super storm in another major East Coast city – with the unfortunate risk of greater loss of life and property.
People of faith in particular must stop trying to figure out the letter of God's law, and engage in the spirit of God's law – a law that demands love and respect as standards of care for all of God's creation, including the very planet on which we live. We cannot raise the temperature of our planet, rob the earth of all of its precious minerals, and build with no regard for the delicate balance between nature and progress that must be maintained in order for our world to be preserved for future generations. As one who has witnessed firsthand the devastation nature can dole out, I will pray and act toward greater faithfulness over the Earth. True evangelism must include a sense of "environmental evangelism." We must preserve and protect our planet, even as we await the return of our Lord and Savior. This is an integral part of the "well done" for every "good and faithful servant."
Rev. Darren A. Ferguson is a preacher, teacher, singer, motivational speaker, and social activist. He serves as the Pastor of the Mount Carmel Baptist Church in Arverne (Far Rockaway), N.Y., and is the leader of the Starve The Beast Campaign - to reduce violence and recidivism in NYC. He is the author of How I Became An Angry Black Man: From Prison to the Pulpit an autobiographical account of his story of redemption. Most importantly, he is a proud and devoted father to his daughter, Naia, and a loving husband to his beautiful wife, Kim.
This post is featured in Sojourner's monthly Faith in Action newsletter, which you can join by clicking here.
Image: Hurricane Sandy destruction in Breezy Point, N.Y., Leonard Zhukovsky / Shutterstock.com