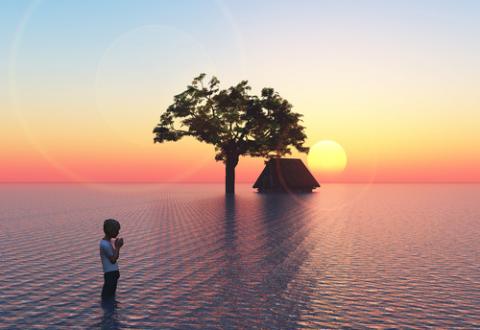 I've believed that climate change is the greatest moral issue facing us, and something I want to work on in my congregation. But how? I asked someone who had conducted a survey in our denomination, and he said that most churches discussed the issue but had little or no concrete action. I talked to activist congregations whose members were experiencing burnout and no longer meeting as a group. In a meeting with concerned congregations, I found that they experienced a big separation between climate-change interest groups and social action groups. In my congregation, we formed a "Green Team" that was concerned with saving energy, but it was reluctant to do any political action.
After much prayer and many conversations and group meetings, our Social Justice Minister called a group together that he called "The Climate Change Initiative." Twenty-five of us showed up, and after we introduced ourselves, our minister said he had noticed three groupings emerging: Practical, Political, and Spiritual Action.
We started to meet in three subgroups, but still collaborated. A year later, I met a leader of a United Church of Christ congregation who had pioneered and formed the UCC national denominational emphasis. She said the same three elements were evident in their congregation work, and that had, she thought, contributed to the pattern for change.
In reading some history about political and spiritual movements, I learned that the Second Great Awakening in England was spearheaded by evangelical Anglicans, among whom William Wilberforce was the leading spark. He led the fight in Parliament and inspired those with whom he prayed and worked. He, and his group, which was dubbed the "Clapham Sect," were profoundly spiritual with highly sophisticated spiritual practices, including spiritual friendship with men like John Newton, an evangelical opponent of slavery. The group met in each other's homes, and many of them lived in the same neighborhood and shared their homes. They did all sorts of practical work such as organizing help for widows, orphans, unschooled poor children, prison reform, and missions. But above all, they formed, along with Quakers and Methodists, networks for the abolition of slavery. This affected the whole world.
Spiritual awakening.
Political action.
A practical and supportive community.
These three elements formed the same pattern I had been noticing among us and other churches that had taken leadership positions to slow climate change.
Each individual and congregation is unique, but there is a different dynamic present in churches working for creative change than in the churches that are stuck. The issue is solved not by more study, but often learning together from secular and religious resources in the community. We aren't getting burned out, because we are rooted and grounded in communion and community. We are finding ways to make connections between our outreach ministries that are primarily individual charity or development and our climate change initiative.
Could this pattern find resonance in other congregations?
John Ackerman is actively plotting with others about helping congregations become more active in the political fight about climate change. He has read Sojourners for 25 years, and has been inspired to act, most recently because of Bill McKibben's articles. He has written books and articles about spirituality in congregational life.
Image: Climate change illustration, Sangoiri / Shutterstock.com