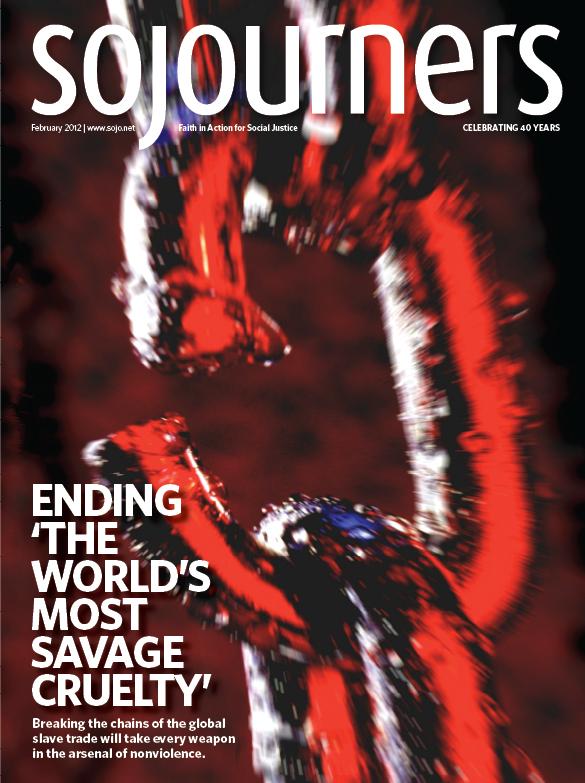 Magazine
Sojourners Magazine: February 2012
Subscribe to Sojourners for as little as $3.95!
It's almost impossible to read historian Stewart Burns' compelling article on the global slave trade in this issue without being moved—if not to action, then at least to tears. Burns, as well as authors Sylvia Yu and Abayea Pelt, describes the unmitigated evil of modern trafficking, telling the stories of young children and adults—mostly female—who are cruelly exploited, often over many years, for the pleasure or profit of others.
But in some ways it's the sheer magnitude of the evil that makes it so hard to confront. That's true in numerical terms: Millions of people around the world suffer as sex or labor slaves or child soldiers. But perhaps even more daunting are the spiritual and psychological obstacles—the understandable temptation to avoid the pain of facing this kind of inhumanity by denying the horrible realities or by turning our attention elsewhere.
In the midst of this stand the inspiring stories of people—from China and Cambodia to the streets of Washington, D.C.—who refuse to acquiesce to this injustice, and who are taking concrete steps to make a difference in real people's lives. They're engaged in everything from direct rescue efforts to public policy work to "preventative education" for girls who might be susceptible to the lies that lure innocent people into lives of horror.
The stories in this issue represent numerous ways to confront trafficking. These various efforts—and many others—are absolutely needed because, as Burns explains, defeating this demon will take every nonviolent tool available and every contribution possible. As Marian Wright Edelman, founder of the Children's Defense Fund, put it, "So often we think we have got to make a difference and be a big dog. Let us just try to be little fleas biting. Enough fleas biting strategically can make a big dog very uncomfortable."