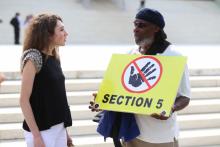 Today is a dark day in our nation's history. In a 5-4 ruling, the Supreme Court ruled in the case of Shelby County, Alabama v. Holder that Section 4 of the Voting Rights Act is unconstitutional, rendering the 48-year-old legislation impotent to protect citizens from voter suppression. Section 4 lists the states that must obtain "preclearance" from the Department of Justice before instituting changes to their voter laws. In her dissenting opinion, Justice Ruth Bader Ginsburg, said: "Throwing out preclearance when it has worked and is continuing to work to stop discriminatory changes is like throwing away your umbrella in a rainstorm because you are not getting wet."
Only 48 years ago, on March 7, 1965, men, women, and children absorbed blasts of water, bone-crushing blows from police batons, and profound humiliation as Selma, Ala., police dragged limp black bodies over concrete on the far side of the Edmund Pettus Bridge. They had assembled on that day, which came to be known as "Bloody Sunday," to march from Selma to Montgomery in protest of voter suppression and intimidation that had plagued the entire South. Ten days later, President Lyndon B. Johnson sent the Voting Rights Act to Congress. The bill passed in the Senate on May 26 by a vote of 77 – 19 and passed in the House on July 9 of that year. President Johnson signed the Act into law with Dr. Martin Luther King, Rosa Parks, and others present on August 6.
Flash forward to Fall 2012. I launched a blog series called "Watch the Vote" because, as of August 2012, 30 states had introduced legislation or enacted laws to hinder voters' access to voting over the previous year. The Fair Elections Legal Network crafted this map to chart the spread of legal voter suppression initiatives across the nation. Notice, Alabama is one of the states that has recently passed voter restriction law that has not been precleared by the Department of Justice. Its new law, requiring photo ID and proof of citizenship, was set to take effect in 2014 before the Supreme Court ruled last week that Arizona's voter ID law, which Alabama used as a model for its own, is unconstitutional.