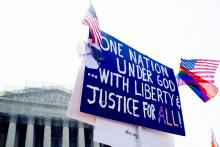 The words above the Supreme Court read, "Equal Justice Under the Law." This week, two Supreme Court outcomes dramatically affected the reality of those words.
On Tuesday, in a 5-4 decision, a key component of the historic Voting Rights Act of 1965 was struck down, jeopardizing equal justice under the law especially for black, Hispanic, and low-income people whose voting rights have historically been assaulted and have continued to be suppressed as recently as the 2012 election. In fact, Section 4 of the Voting Rights Act — which required parts of the country that have been especially egregious in racially motivated voter suppression to get federal approval of any changes in their voting laws — was specifically used in the 2012 election to prevent new voter suppression. That provision has now been struck down, and efforts to increase barriers to voting are already underway in several states, especially in the South, that would suppress the future votes of Americans of color, especially those with lower incomes.
Equal justice under the law lost on Tuesday, June 25. The Supreme Court's decision was morally shameful. ... 
Contrast Tuesday's decision with the final ones we saw handed down this week. ... I, along with a growing number of people in the faith community, believe that equal protection under the law is essential for our gay and lesbian friends and family members. While some Christians are conflicted about the theological issues involved, or even are unable to support homosexuality on a religious basis, they also don't want churches to be the ones standing in the way of civil rights.