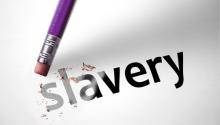 Currently there are more people in slavery than any other time in history. In response to this, there are hundreds of anti-human trafficking organizations throughout the world. People are working tirelessly for justice and restoration for the victims.
There are the men and women who are rescued, some are just children. There are also the rescuers, the judges and lawyers who bring justice, and the psychologists who help to rebuild wholeness. Countless numbers of people support the end and rescue of those enslaved by trafficking – especially sex trafficking. But where are the "Johns" - the men[1] who play the role of Demanders in the Supply and Demand economics of this billion dollar international industry? I'd like to put some money toward restoring them.
Aren't they an important aspect to this equation? Women and girls would not be victimized sometimes 40 times a day without those who pay for it. The captors would move on to more lucrative business ventures if there weren't men willing to fork over money again and again for something that the world has decried as both illegal and immoral.
I'm surprised that this plays little to no role in our larger conversations about being serious in ending the sex slave trade. What is it that these men are seeking? Why are they paying for sex? Why are they choosing to have sex with someone who is clearly not there willfully? How much is power at play in this situation? What about the men's ability to be in stable relationships? Why is there still a demand for enslaved persons?
Buying sex from enslaved people does not happen in a vacuum. There is a progression that includes various aspects. If we are serious about ending the sex slave trade we will need to address some serious issues within every nation in the world, particularly those with male-dominated societies that promote male aggression, provide women with limited or no educational and economic opportunities, and deprive men of solid and symbiotic relationships where they can find genuine intimacy and self-expression for their feelings.
Might I suggest 10 ways we can fight sex-trafficking: