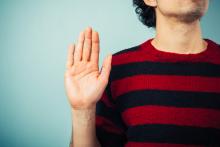 Everywhere we turn, someone or something is vying for our allegiance. Sports teams. Car companies. Television networks. Politicians. Political parties. Flags. Countries. And of course, the church. Many of us will readily admit that Jesus taught our allegiance is to be, first and foremost, to God. That is, until someone steps on our toes and throws our church into the mix. For many, their allegiance to God and their church are so intertwined it's difficult to tell where one ends and the other begins. But what does Jesus have to say about all of this?
From my estimation, God makes it pretty clear that he does not want to vie for our allegiance. Isn't that the whole point of the first commandment? Jump ahead to the New Testament and we find Jesus teaching the same thing. At one point Jesus goes so far as to tell us that our allegiance cannot be divided. Either we will love the one and hate the other, or hate the one and love the other. According to Jesus, serving two masters isn't just difficult, it's impossible. To further illustrate this point, he even turns away a would be disciple. From reading the story, this man seems to have a legitimate concern. All he wants to do is bury his father before taking off to follow in the footsteps of this rabbi. But from Jesus' perspective, his allegiance is divided, so this won't fly.
Today is no different. God doesn't want to vie for our allegiance. Yet he must, because our allegiance is divided between church attendance, theological stances, and denominational commitments (among other things), as if these things take precedence over following Jesus.