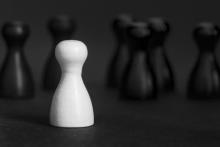 For white people who care about racism, it's time we stop pointing the finger at others and start confessing our own sin.
Every white person I know denounces the blatant, tragic racism of Dylann Roof. They abhor that this sort of thing could possibly happen in 2015. They can't believe there still exists people who are THAT racist, who would fly the Confederate flag, who could possibly say (x and y and z). They shudder and shake at such insanity.
Many white moderates and conservatives I know would express such a view.
And some of those white people are also quick to point out "structural racism." Chastising the "lone wolf" fallacies of those who think Roof acted outside of a racist context, these folks stress the importance of systems. For them, racism isn't simply perpetrated by extremist Southerners or a few power-hungry police officers. Rather, it's sustained primarily in local and national policies. With their cultivated, educated, birds-eye view, these white people expose "white privilege." They, ahem, get it.
This is the enlightened white liberal par excellence.
But both views enable an understanding of racism that exists outside our own selves. Racism doesn't exist outside our own selves, white folks. It doesn't simply exist in THAT guy. It's not just a vague political force in policy. It exists in you. It exists in me. I am racist. I am a white supremacist. And if you're white and reading this, you probably are too.