Samuel Stephens, a chaplain resident at Penn Medicine Princeton Medical Center, holds an M.Div. from Princeton Theological Seminary.
Posts By This Author
A Constructive View of Reparations
06-29-2022
In "Reconsidering Reparations," Olúfémi Táíwò argues that history is "a way to map the currents that engulf us in the present."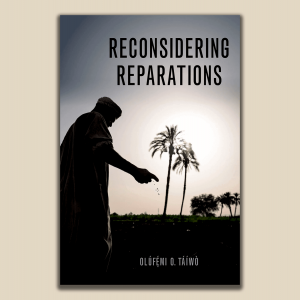 IN A FORMER job, I traveled to farms scattered around the world searching for coffee beans to make espresso drinks for Western consumption. I became intimately aware of the complex origins of something as seemingly simple as a cup of coffee and witnessed firsthand the currents of a worldwide distribution system that transfers surplus value from the Global South to the Global North.
In Reconsidering Reparations, Olúfémi Táíwò, an assistant professor of philosophy at Georgetown University, describes the history of this system and how it contextualizes discussion of reparations. Colonialism and trans-Atlantic slavery, what he terms the "global racial empire," created the world and the complex web of social and economic relations we inhabit today. This system has resulted in an accumulation of safety, education, food, health care, and opportunity in Western countries and insecurity and precarity in the Global South. Táíwò argues this history is "not simply a point of comparison to the present. It is a way to map the currents that engulf us in the present."
Unsurprisingly, these currents extend to the vulnerabilities occasioned by climate change. The metrics most equated with human flourishing—life expectancy, maternal mortality rates, dietary adequacy, literacy rates, sanitation accessibility, and "government effectiveness" (civil liberties, political rights, and governing accountability)—are significantly worsened by a country's history of colonization and intensified by climate change. Climate justice and racial justice turn out to be the same project, in response to the same political history of global racial empire.