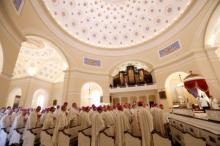 As the U.S. Catholic bishops began their annual fall meeting on Monday, they were directly challenged by Pope Francis' personal representative to be pastors and not ideologues — the first step of what could be a laborious process of reshaping the hierarchy to meet the pope's dramatic shift in priorities.
"The Holy Father wants bishops in tune with their people," Archbishop Carlo Maria Vigano, the Vatican ambassador to the U.S., told the more than 250 American churchmen as he recounted a personal meeting in June with Francis.
The pontiff, he added, "made a special point of saying that he wants 'pastoral' bishops, not bishops who profess or follow a particular ideology," Vigano said. That message was seen as an implicit rebuke to the conservative-tinged activism of the bishops' conference in recent years.
Almost since his election in March, Francis has signaled that he wants the church to strike a "new balance" by focusing on the poor and on social justice concerns and not overemphasizing opposition to hot-button topics like abortion and contraception and gay marriage — the signature issues of the U.S. bishops lately.