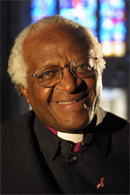 On Saturday, Jan. 30, I attended a service in which one of my colleagues was being ordained as a deacon in the Anglican Church together with ten others who were being ordained either as priests or deacons. The presiding bishop was Archbishop Desmond Tutu! He delivered the sermon. He was pastoral and fatherly in his message encouraging the newly ordained priests and deacons to honor their calling and serve their congregations through faithfulness, being present to the needs of congregants and not taking service or sacraments for granted. He was energetic, full of humor, and deeply spiritual. He embodies dignity both prophetic and pastoral. It was a privilege to listen to him and witness the strength of his faith.
Although the situation in Zim continues to be an uphill struggle, Valentine's Day provides some reason for hope because the "the power of love is greater than the love of power." This is the slogan of WOZA (Women of Zimbabwe Arise) which was started in 2003 on Valentine's Day and was presented an award by President Obama! Every year on Valentine's Day they march for justice and progress and are often arrested. Check them out on their Web site wozazimbabwe.org.
Bishop Tutu represents the spirit of WOZA being loving, pastoral, and prophetic. May their witness be supported by all of us in every way we can!

Nontando Hadebe, a former Sojourners intern, is originally from Zimbabwe and is now pursuing graduate studies in theology in South Africa.
Got something to say about what you're reading? We value your feedback!