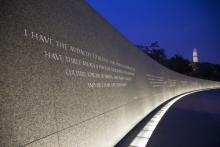 Prophets are always asking questions. Tough questions. Unsettling questions. Questions that they pose to themselves, then try to answer by how they live.
Questions such as:
What's in our hearts? Are we concerned too much about ourselves and too little about others? Do we believe in love? Why do we give in so readily to bitterness and hatred?
Why do so few have so much, while so many have so little? Aren't we all diminished by the poverty, discrimination, violence, and the various injustices in our world? Why do we glamorize violence and weapons as solutions to our problems?