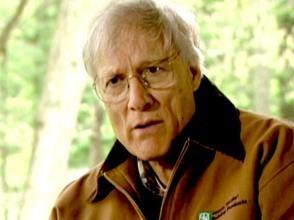 WALTER WINK IS known as a lectionary commentator with lucid biblical insight, a chronicler of nonviolent practice, a scholarly essayist, an arrestee in direct action, and one of the most important theologians of the millennium's turn. He effectively named "the domination system" and its collusive principalities, opened up biblical interpretation to an integrated worldview, and brought the New Testament language of power back on the map of Christian social ethics.
Two years ago he crossed over to God, joining the ancestors and saints. His first two posthumous books have now appeared. They make for good companion volumes. Let me weave back and forth between the two. Walter Wink: Collected Readings is the anthology of his core work. Just Jesus: My Struggle to Become Human is a short autobiography. The second is the more remarkable—because it's so rare that a world-class scripture scholar should tell his or her own story in relation to encounters with the biblical witness. And all the more so because it was a project undertaken after he was diagnosed with Lewy body dementia.
Given the dementia, the book itself is an effort of his "struggle to become human." An early version of the manuscript included oral history and other sources narratively adapted to a first-person voice, but in the end his partner in all things, June Keener Wink, pressed for it to be pure Walter. No words not his own. His voice is easily recognized in these pages, though not always in the familiar crafted and noted style, rich in quotable one-liners. The jewels are here all right, but this text feels simpler, sparer, plainer. There are prayers and memories of one suffering the weight and creep of memory loss. Though it is a book he conceived and set to writing, June (aided by a sainted editor) lovingly completed the sculpture with autobiographical pieces, journal entries, prayers, dreams, and important portions of his final magisterial work, The Human Being: Jesus and the Enigma of the Son of the Man. The latter, also well represented in Collected Readings, frames the struggle (Jesus', Walter's, and our own) to become human.
The Human Being is a detailed reading of the so-called "son of man" sayings of the gospels, and is partly in conversation with the Jesus Seminar, in which Wink participated. Collected Readings is warmly prefaced by Marcus Borg, among the more notorious of that circle. In Just Jesus, Wink recalls first conceiving the memoir in conversation with another participant when they wondered aloud on a walk what it would be like to know the biographies of all the seminar members to understand how their various positions might be rooted in their lives, or even I suppose vice versa. The anthology editor, Henry French, devotes his introduction to stressing the connections between "biography and bibliography."
This is important. Walter Wink was an engaged interpreter, an activist scholar. He somehow thought hermeneutics should be consistent with the intent of the gospels, which were themselves passionate engagements with the Jesus movement and even with the imperial powers that be. Faith calling to faith. In the '70s, he was denied tenure at Union Seminary in New York and academically shunned after publishing a book, The Bible in Human Transformation, with the opening line: "Historical biblical criticism is bankrupt." That story is briefly recounted in Just Jesus, and most of the little tract is included in the anthology. There he assailed the myth of objectivity and argued for such an engaged reading of the text. In a certain sense,Just Jesusis its fruition, the last book fulfilling the first. In the wake of liberation theologies, it's now common for authors up front to identify themselves and their social location. Here Wink takes that to its fullest implication: an entire autobiography of an exegete.
So consider: an abusive upbringing and confession of an unreconciled bitter grief over his father's suicide; striking out into the world as a young person to test the unworried radical grace of the Sermon on the Mount; a Pentecostal conversion with tongues and baptism in the Holy Ghost that never let him go; the march in Selma; work (personal and academic) with the Guild for Psychological Studies in California; the complicated relationship to academia; marriage to a partner who would draw his biblical work toward art, dance, embodiment, and healing. These and more—the experience of Harlem, Chile, and South Africa.
One might meditate on the cover photo of Just Jesus, where Walter is being arrested in the "daily death toll project" in Washington, D.C., in 1971. He holds a Vietnamese peasant hat and bears a sash identifying him with "a monk." Each day 300 people from different cities on the East Coast would die-in at the White House to represent the body count during the air war. Full disclosure: He was my New Testament professor at the time, and I am lying somewhere on the ground off the edge of the page—my own first arrest.
Years later, as we stood together against another war, blocking the White House gate (an action, if I'm not mistaken, organized by Sojourners), Walter and I talked while the cops summoned the wagons. I was angsting about a book I was attempting to write about the principalities and liturgical resistance. He said firmly, "The powers hate exposure. They are trying to suppress this book, and you can't allow them to." I was fully encouraged. It got me moving and off the dime. I wrote. Only much later did it dawn on me how this wisdom was hard won from his own experience of struggling mightily to unmask the powers. Now I find in Just Jesus a journal entry at precisely that time, nearly to that effect: "I am simply eager to get on with the Powers books, yet I am afraid of failure too. I am afraid of not being able to pull it off as a total integrated work of art and thought. That is, of course, possible. But it is also the Devil undermining all chance of it happening as well."
Fully two-thirds of Collected Readings is taken up by Wink's trilogy on the principalities: Naming, Unmasking, andEngaging the Powers, truly his most influential work. His close survey of the New Testament material, the theological essays informed by cultural analysis and depth psychology, and the capstone—a new and renewed practical theology of nonviolence—have become seminal for both biblical studies and movement spirituality. Language that he originated in each, such as "myth of redemptive violence" and "the domination system," has become commonplace—even unacknowledged and ubiquitous.
Henry French roots the impetus for the powers trilogy in Walter and June's lived experience in Chile under military dictatorship in 1982: Nearly crushed by despair; driven to the Word. Elsewhere Wink credits William Stringfellow with setting him in motion on the 30-year principalities and powers project when Wink reviewed Free In Obedience (1964), Stringfellow's first real treatment of the powers, for Christianity and Crisis magazine. Stringfellow doesn't come up in these volumes.
The strength of Collected Readings is also a weakness. That a volume published by Fortress Press should collect readings all from Fortress is a narrow reliance. Primary publisher, yes. Core works, to be sure. But so much omitted. As French himself seems to acknowledge, one may readily imagine a fuller, broader anthology that will one day draw upon Wink's other books (he wrote eight on the powers alone), some more popular and practical, as well as the articles, interviews, accounts of nonviolent action, poems, prayers, and Bible studies. Bring them deftly on.
Wink's work changed the face of biblical studies in ways large and small. Both books include a notable one from the Sermon on the Mount: For more than a millennium, turn the other cheek, give also your coat, and go the extra mile have been read as passive-doormat ethical prescriptions. Wink recovered them as uppity resistance examples. Many were tapped by him to help enact these stories in his local presentations. In Just Jesus, he recounts that it was only in performing Jesus' sayings that Wink first understood their meaning. Only in attempting to strike a fellow participant on the right cheek, did it become physically clear this was a backhand of humiliation—the entire sequence being about powerlessness upending power, about reclaiming dignity and humanity. Notice that bodily enactment was key. Incarnation preceded exegesis.
He taught this sequence as training in biblical nonviolence to participants in the South African church struggle against apartheid. His illegal border crossing, practically miraculous, into South Africa with his lifelong friend Richard Deats is told here in fine detail, a story of risk, providence, and resurrection.
Once, as a seminarian at Union, in an "Intro to New Testament" small group circle, we were studying the pearl of great price from Matthew. Walter halted the discussion so we could go round and allow the text to ask us each: "What are you willing to die for?" I am still living with that discipleship question. I've since decided that no one should escape seminary (nor baptismal preparation, for that matter) without having to face that interrogation. It is the human question not just of freedom and mortality, but of risk and struggle.
June reports that it was important to Walter in his illness that he complete the autobiography before he died. She quotes him from an interview, "I hope to live to a ripe old age, but if I have to give my life for the gospel or justice, I hope I can do that." He did, just so, in the many ways that human beings can. The book is witness. Thanks be to God. 
Bill Wylie-Kellermann is a pastor, community activist, teacher, and writer in Detroit. His most recent book is William Stringfellow: Essential Writings (Orbis).