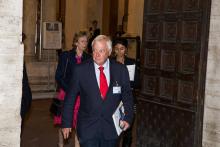 The Vatican is dragging its media machine into the 21st century, promising to promote social media and streamline its fragmented services with the help of a former BBC executive.
Lord Christopher Patten, former chairman of the BBC Trust, on May 27 outlined reform plans nearly a year after being appointed chief of the pope's media committee.
Addressing journalists at St. Patrick's church in central London, Patten highlighted "wasteful" duplications of media services at the Vatican and said modernization was imperative.