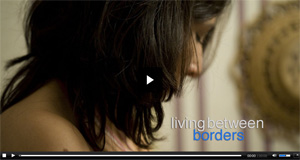 Isabel has learned to live with fear. That is what she must do to remain with her family. She came to the U.S. at the age of 13. Today, she is 29. Her whole family -- including her daughter -- is documented, but she is not. She has considered returning to Mexico, but her life and her world is here. She does not know her birth country well enough to survive there.
With the current laws, she has no option of becoming documented. At this time, even applying for residency would bring a penalty of 10 years in Mexico for having entered illegally.
So Isabel waits for the laws to change and prays that she is not unmasked in the interim.
Click here to watch the video.
Eileen Mignoni is a freelance multimedia journalist. Find out more at EileenMignoni.com.
+ Show your support for just and humane immigration reform by signing the CCIR Statement.
This account is taken from Voices of Immigration, a campaign of Christians for Comprehensive Immigration Reform (CCIR) aimed at highlighting the stories of immigrants in our country. Believing that every person is made in the image of God, we seek to restore the human element to the conversation around immigration reform. Each day this week a new story will be highlighted on God's Politics, with additional ones posted throughout March at CCIR's Web site: www.faithandimmigration.org.