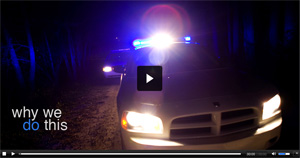 North Carolina is a leader in local immigration enforcement. Under the 287(g) program, a local law-enforcement agency partners with the Department of Immigration and Customs Enforcement, a branch of the Department of Homeland Security. North Carolina has the second most 287(g) partnerships of any state, and numerous counties are eager to join.
The partnership is designed to find what ICE calls "criminal aliens." The North Carolina counties participating are all jail-enforcement models, which means that a suspect's immigration status is checked only after he or she is arrested for another reason. Proponents say it is ridding the community of the criminals. Opponents argue that it leads to racial profiling.
In this video, Wake County Sheriff Donnie Harrison explains why he believes immigration checks are vital for the safety of his jail and his constituency.
Eileen Mignoni is a freelance multimedia journalist. Find out more at EileenMignoni.com.
+ Show your support for just and humane immigration reform by signing the CCIR Statement.
This account is taken from Voices of Immigration, a campaign of Christians for Comprehensive Immigration Reform (CCIR) aimed at highlighting the stories of immigrants in our country. Believing that every person is made in the image of God, we seek to restore the human element to the conversation around immigration reform. Each day this week a new story will be highlighted on God's Politics, with additional ones posted throughout March at CCIR's Web site: www.faithandimmigration.org.